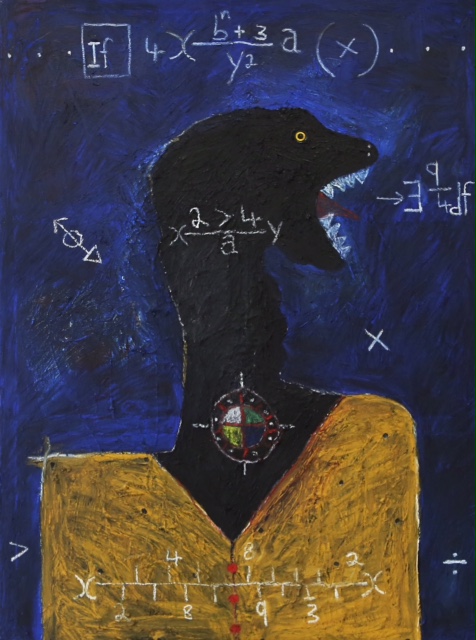 "One of the most captivating Afro-Expressionist painters of our time"
Adjani Okpu-Egbe is a talent emerging from a new generation of African-born artists. Born in Cameroon in 1979, his bold, textured paintings can be seen as a kind of Afro-Expressionism.
Okpu-Egbe's aesthetic universe is multi-layered and is informed by his experiences growing up in Cameroon and by the global politics of a metropolis such as London.Okpu-Egbe extracts from his life experiences to create his work: stories of his African childhood, personal encounters, historical research and political commentary infuse his paintings.
He studied History, Archaeology and Egyptology and draws from these subjects. Viewers excavate and unravel the many viewpoints in his compositions, decoding the significance of heads or limbs and the mysterious mathematical equations which are scrawled over his work.
Okpu-Egbe derives his own set of symbols and painterly language whilst being inspired by Miro, Dubuffet, Basquiat, Picasso, Twombly and de Kooning. His unique painterly technique is executed in thick textured acrylic and overworked in oil-bar, and often applied onto found materials: such as doors, wooden palettes and bubble wrap.
His compositions incorporate street culture and high culture, the precise use of discarded materials and a frantic application of paint convey his brilliant thought process and spontaneous narrative.Okpu-Egbe solo show at the 1:54 Contemporary African Art Fair at Somerset House in 2013 was selected as a collector's destination – his work has been featured in The Financial Times, Beaux Arts Magazine, London Live, CNN, and Bloomberg TV and is found in significant collections in the UK and Europe.
Okpu-Egbe was also commissioned by the BBC to produce a painting for the Queen's Diamond Jubilee in 2012.Below are links to recent interviews on Bloomberg TV and London Live.http://www.londonlive.co.uk/news/2014-10-21/interview-with-artist-okpu-edbe-vhttp://www.bloombergtvafrica.com/video/africa-trending-african-art-fair-sapeur-style
Comments
comments