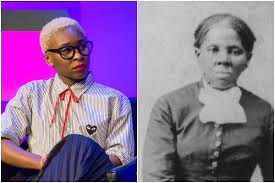 Opinion: On Africans Playing Black Historical Figures in Film
In case you didn't know, Harriet Tubman, champion of the Underground Railroad, is a legendary figure in Black history. Many Black people in America became experts on Tubman and her legacy as students, when they presented about her undying heroism through PowerPoint  and tri-fold board presentations—myself included. Harriet Tubman is practically a staple in Black history. Hers is just one of those names you know, even if you're not as well versed in Black history as you should be.
It was recently announced that Steve McQueen, director of the 2013 Oscar-winning film, 12 Years a Slave, is currently in the works of producing a biopic about the life of Tubman, entitled Harriet. Cynthia Erivo, a 31-year-old actress and Tony Award winner will play the role of Harriet Tubman. Erivo's impressive acting track record makes her a good fit for such an intense role and film, however, the fact that she is a British woman of Nigerian descent has some people raising their eyebrows.
The unavoidable question comes to mind: wouldn't it make more sense to cast a Black American in such a role? Someone who is an actual descendant of Black slaves in America, and has grandparents who fought and died in the Civil Rights Movement? As an African-American who hails from a lineage of slaves and sharecroppers, all of these thoughts crossed my mind, when I learned who would play the role of Harriet Tubman.
While I do consider myself a Pan-Africanist and subscribe to the idea of a shared identity between Blacks in Africans and across the diaspora, I recognize that not all of our stories are the same. That is to say that my captured, kidnapped, enslaved, owned, beaten, raped ancestors faced a different story than the Nigerian ancestors of Cynthia Erivo. Although I myself was never enslaved, the lyrics from Joyner Lucas' 2017 single I'm Not Racist perfectly illustrate what it's like to be Black and a descendant of slaves in America:
And even if I wasn't picking cotton physically
That don't mean I'm not affected by the history
My grandmama was a slave, that sh*t gets to me
From that perspective, it's easy to prefer that only Black actors play historical figures in Black history. However, if we truly want to break down barriers and stereotypes between Blacks and Africans, we must begin to bridge cultural gaps in film. Black Panther, although not based on real historical figures, featured both Black British and Black American actors (Daniel Kaluuya and Angela Bassett, for instance) as African characters. Despite this, the film became a global, cultural phenomenon, which has since come to represent Black pride and unity. The movie also sparked necessary, yet overlooked conversations regarding the complex relationship between Africans and African Americans. In addition, Black actors have historically taken on African roles. For example, LaVar Burton famously played the role of Kunta Kinte in the original 1977 miniseries Roots. Of course we can't forget that Idris Elba, a Black English actor, took on the role of Nelson Mandela in the 2013 film, Mandela: Long Walk to Freedom. In a sense, social and political unity begins with an effort to understand, participate, and take part in one another's culture. Allowing one another to step into the shoes of our own leaders in film and on stage is a great stride towards better cultural understanding.
Comments
comments