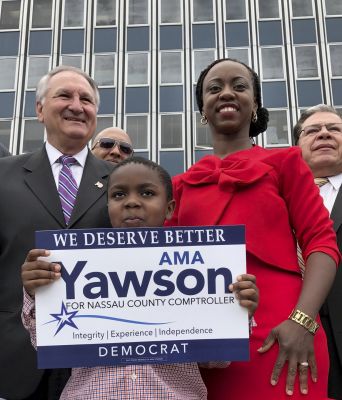 First Black/Woman Candidate for Nassau County Comptroller
Ama Yawson of Freeport, LI, announced her candidacy for Nassau County Comptroller. Yawson is remarkably accomplished with credentials unseen in Nassau County government. She is a graduate of Harvard University, Cum Laude, and holds a Juris Doctor and a Master's in Business Administration from The University of Pennsylvania Law School and the prestigious Wharton School, respectively. Ms. Yawson held positions as senior counsel and financial analyst at leading financial institutions
"I am deeply honored to have been asked by County Executive Candidate George Maragos to run as an Independent Democrat for County Comptroller. I would like to thank George Maragos for his bold vision of a better Nassau County and his political courage in choosing me, a political outsider, but community insider, a person whose only commitment is to the people of Nassau County", Yawson proclaimed.
Yawson is the daughter of Ghanian immigrants who pursued education and labor upon residing in the United States. "I am rooted in the importance of family and the pursuit of a better life for all", Yawson explained. "Some of the fundamental values that are the foundation of my campaign agenda, began with what I learned at home".
She joins Nassau County Comptroller George Maragos, who is running for County Executive, as the candidate to replace him. Together, both candidates plan to restore trust in government and end corruption and ensure taxpayer dollars are spent towards a better and more affordable place to live and raise a family.
Yawson's platforms consist of bringing "financial integrity and responsibility" to the comptroller's office in order to lower taxes and providing access to government contracts for small, medium and minority and women-owned businesses.
"I understand what it is like to struggle to pay our exorbitant taxes, given the fact that our taxes are more than 4 times that of the national average."
"I understand what it is like to struggle to afford to purchase a home given the fact that our homes cost more than 70% of homes in the nation."
"I agree with ending the culture of corruption and cronyism in Nassau Country through aggressive audits"
Yawson is a mother of two who owns a boutique publishing house and educational consulting practice, as well as the author of a bestselling book on bullying called "Sunne's Gift." She has also had several articles featured in The Atlantic and Huffington Post. She previously worked at Citigroup and Cleary Gottlieb Steen & Hamilton as senior counsel, and also hosts a weekly radio program that airs in New York City.
"As a mother of two young boys and a small business owner, I am very aware of how difficult it is for young families to make ends meet in Nassau County. The excessively high property taxes stemming from the pervasive corruption and patronage in government are unbearable for so many families," said Ms. Yawson. It is time that people such as myself, not beholden to anyone, step forward to reform government, ensure transparency, end patronage to politically connected special interests, and reduce the tax burden on our working families, seniors and veterans."
For more information on Ms. Yawson and campaign updates, please visit www.yestoyawson.com
Comments
comments