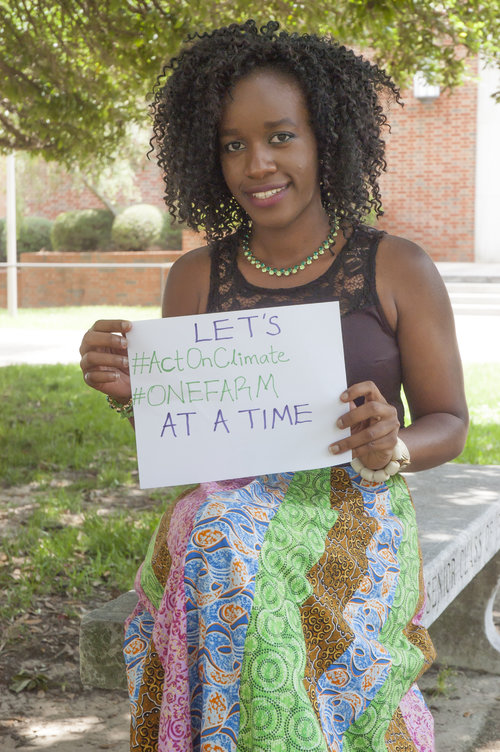 Taking Back the Continent: Millennials' Attempt to Reverse a Decade's Worth of Damage
"It's our Africa, we are eventually going to have to fix it. So, we might as well start with the Niger Delta, #Onefarm at a time" – Amara Ijeoma Uyanna.
Growing up in Nigeria, we heard about the Niger Delta situation, and Ken Tsaro Wiwa's death and the Shell oil spillage. But, we were children, we didn't really understand. Before crude oil was discovered in the region, Nigeria's Niger Delta was once abound with natural resources and boasted one of the best mangrove forests in all of Africa and one of the top five in the whole world. Men and women thrived in this region because they could fish, farm, trade, and just be…until crude oil was discovered.
I fully discovered the extent of the damage to the Niger Delta region during my first interview with Sustainability International, a non-profit organization dedicated to education, conservation, and improving community health. Chinyere Nnadi, the co-founder, asked me to read the United Nations Environmental Program's (UNEP) Environmental Assessment of Ogoniland. The report highlighted that between 2007 and 2011 alone, artisanal refining had resulted in the loss of 10 percent of healthy mangrove cover. It noted that surface water throughout the creeks of the Niger Delta contained hydrocarbons and the water being drunk in some of the communities contained 900 times more benzene, a known carcinogen, than the World Health Organization (WHO) standard. The report revealed the unconducive conditions in which the Niger Delta people live, yet nobody was doing anything to fix it.
Before the oil spills, the Delta thrived. Today however, militancy, piracy, and kidnapping are the readily available occupations. Rich men equip poorer men with guns and targets, and reward execution with currency. It would be easy for us to berate the actions of the poor men, but how many options did they really have? They have wives to feed, or attempt to feed, and children to cater for.
Our sisters in the Delta have it worse. Because they are female, they are not typically tasked with targets and execution. Uneducated, financially dependent women can't really be tasked with anything in that part of the world except childbirth and home management. Often the frustrated, emasculated poor men take out their anger on the women in their lives. And these women find the strength to endure. These same women watch in agony as their children die from all kinds of preventable situations. But what can they do? Their farmlands are gone, their fish are dead, and their children are dead. So, they have more children, and repeat the cycle.
Restoring the Niger Delta presents a clean slate for the Niger Delta people. It creates economic empowerment for both men and women and improves Nigeria's GDP. It restores the mangrove forests. It creates opportunity to increase the percentage of children who attend primary school, ultimately providing a good future for the children in the Niger Delta. Cleaning up the Niger Delta rights decades of despicable wrong and takes us a few steps closer to the Africa of our dreams.
That's where Sustainability International comes in. We are currently laying the groundwork for our largest initiative so far – cleaning up the Niger Delta. This project is called "OneFarm" and we will be taking a Virtual Reality crew with us so we can immerse the world in our experiences and all share in the beauty and pain of the Niger Delta as we clean up one farm at a time. We will also be armed with a patented, new biotechnology, tested and validated at the University of Central Florida, which turns oil pollutants into a natural fertilizer. With only one application, it is possible to restore the biological evolution of a farm within 15 to 30 days, at a cost of only $2,000 per acre.
The summer, we will begin the six to eight week pilot phase of the initiative. For more information on the OneFarm project, visit http://bit.do/one_farm. Follow our progress on Facebook, Twitter, and Instagram, share the hashtag #OneFarm, and go to www.sustainability-international.org.
About the Writer
I am Amara Ijeoma Uyanna, Research Analyst with Sustainability International. I graduate with my B.Sc. in Chemical Engineering and French (Honors) from Louisiana Tech University in May 2016. I love my African heritage and I am very proud of it. We need Africa to be great, and we'll need to all work together to make that happen.
The rest of the SI team comprises of:
Chinyere Nnadi: Co-founder of SI
Judy Roman: Director of Marketing
Julie Bissinger: Vice President of Business Development
Brian Pullen: Development Associate
Erin Andres: Digital Marketing Associate
Comments
comments