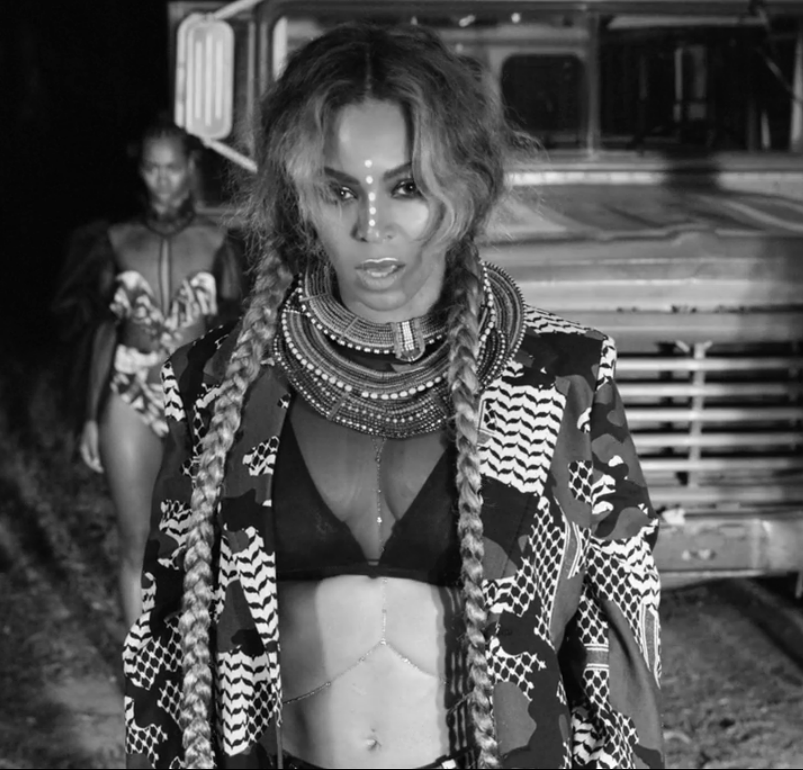 25 Apr

The Importance of Beyoncé's Celebration of Afropolitan Fashion in LEMONADE

Ankara: 100% cotton fabric with vibrant patterns and symbols primarily associated with Africa

The relatability that I have been yearning for from Beyoncé has finally arrived…Finally.  One word. Ankara. If you are like me, you live and breathe what it is to be an Afropolitan. As an Afropolitan and fashion creative, I came to take notes about the fashion and see what Beyoncé could give me in the Afrobeat vein when I heard her new project was debuting. My truth. Listen…Beyoncé tapped me on the shoulder and made me pay attention to her when I watched GROWN WOMAN from her visual album BEYONCÉ. I had to nod my head with approval, throw my hands up over my head, and wine my waist when the beat changed and the African drum pattern overtook the song.  Then the blogs showed me that Beyoncé's stylists were about the Afropolitan influence when we saw her in blazers and couture selections in Ankara. Okay Bey. I see you. But then time passed, and we all moved on in life. And then she gracefully tossed her hair back and out of the Blue Ivy, during what Luvvie coined as the most Onyx of Black History Months to date, there was a collective gasp of emotion and energy felt around the world. She jolted our attention, and forced all Super Bowl viewers to join the ongoing conversation about the value of Black Lives in America with one video and song called FORMATION. Beyoncé! Okay Beyoncé. You have my undivided attention lady! I am in Formation. What's next?

This time, Beyoncé decided to be courteous and schedule her release of LEMONADE and reduce the shock factor so that we could set aside time to receive what she has to give us.  Many of us are still grieving the loss of the icons Prince and Papa Wemba, so with a somber demeanor, we tuned in. In the visual album project, LEMONADE, Beyoncé delivers a visual masterpiece, allowing us to come inside her life and see how she has weathered her way through her love life with the love of her life, her husband, Mogul and Rap Icon, Jay Z, all the while illuminating in her #BlackGirlMagic. For years, the blogs have speculated about their relationship woes, but when leaked footage hit the streets on the internet, we witnessed her sister Solange's violent exchange with Jay Z in an elevator while Beyoncé just stood there, and let out a collective, "Eh eh! Look trouble!" There are 1000 layers to uncover and understand in LEMONADE, but I came for fashion inspiration and a song for my Afro-beating heart. While I didn't get my Afrobeat fix from 'Yonce, I was shocked and amazed by what she gave me. She gave me a bit of myself, and I was not ready.

LEMONADE Image Courtesy of TIDAL Premium

Thank you for showing us that when you are in your moment of Zen, with candles burning, making the toughest decisions, you choose to do so in a head wrap that embodies the simple beautiful moments of an Afropolitan Woman. Want your own head wrap? Shop here and here.

LEMONADE Image Courtesy of TIDAL Premium

It was amazing to see the work of the visual artist Laolu Senbanjo's Sacred Art of the Ori.  His work is extraordinary, unique, and beautiful and his story of working on the set of LEMONADE is awesome!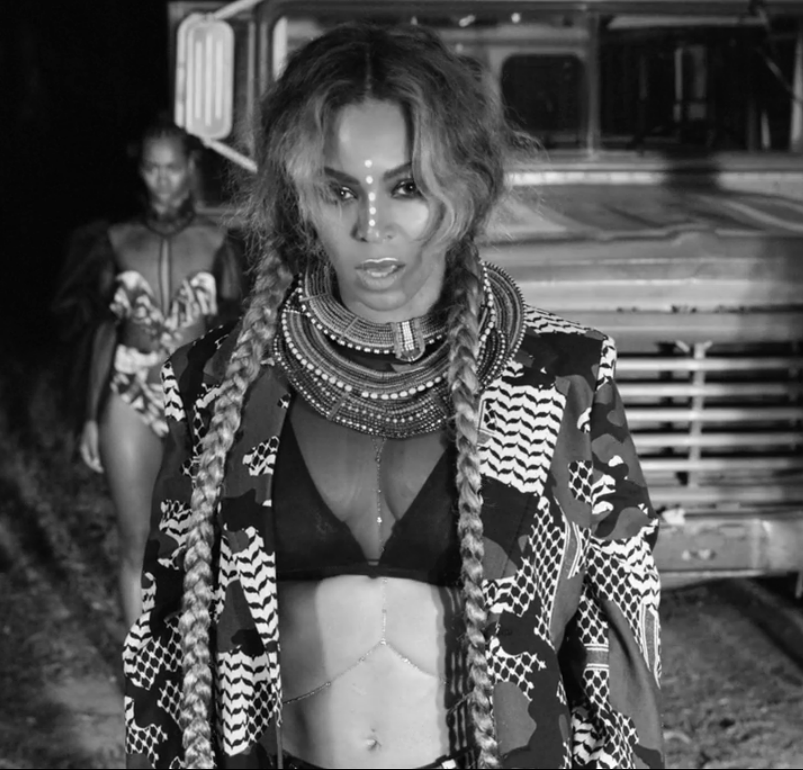 LEMONADE Image Courtesy of TIDAL Premium
Thank you for rocking the Ankara Blazer and Pant.  Pairing it with jewelry from the Masai people requires applause.  The fact that there is just a dab of tribal face paint, I am here for it.   You could have selected any look, but you chose this.  You chose us.  For your own Bespoke Ankara Suit or Blazer options, consider shopping here or here.  
LEMONADE Image Courtesy of TIDAL Premium
Thank you for singing about the significance of your Father's advice and the healing of your relationship with your husband in your beautiful bespoke Ankara dress.  There is something extremely regal about the Ankara fabric. The Ankara selected for this dress is a gorgeous yellow with bold rich hues of blues and maroons.  The design bellows, "Queen.".  We aren't sure who created the dress that Beyoncé' is wearing but we know that she loves Ankara options from Stella Jean.
Thank you Beyoncé'.  
As Afropolitans, it's time.  Our lifestyle is being admired and celebrated consistently by Icons.  Let us collectively allow LEMONADE to create a cultural bridge of unification, especially those with African origins.  I vote that it begins with fashion.  As a fashion creative, I commit to remain dedicated and authentic to the culture, while extending open arms to those who want to celebrate the culture.  What will you do as an Afropolitan to welcome those who want to genuinely connect with our culture?  
Comments
comments